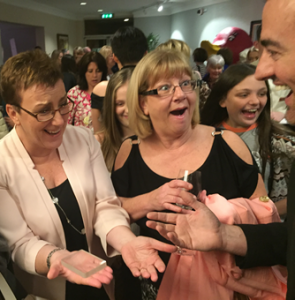 Joe performs his magic at various corporate events throughout the year.
This year alone his has performed at a summer party for Google, a Christmas party for Twitter and a Halloween party for Facebook!
His close up magic involves everything from magic with cards, coins, bank notes, jewellery and mind reading!
Joe can even 'brand' some of his magic to various corporate identities and messages.
Joe performs his magic at weddings the length and breadth of the country.
Typically this is during the drinks reception when the bride and groom of off getting their photos taken or after the meal and speeches.
Joe mix and mingles with your guests and will cause a stir and commotion as he works the room.
It's not only his magic skills that your hiring but also a wealth of experience of knowing when to approach groups, how to approach them and how to deal with all the various personalities! His likable and relaxed manner will win over even the toughest of spectators and his magic will then cause their jaws to hit the floor!
It's all great fun and it's very common to see Joe being beckoned over from one side of the room to the other, often for a second and third time!!
With the popularity of magic on television in recent years Joe has become more and more popular at the likes of 21st and 40th parties.
Joe can perform his magic working from kitchen to dining room or a function room in a bar or hotel.
Joe often hears comments from people saying they've seen magicians on television but always assumed it was fake but seeing his magic up close has made them into believers!
Yes, proving to be unbelievably popular in recent years and adding an unusual twist to a stag or hens do, Joe can tailor his magic to whatever your looking for.
Perhaps you just want mind blowing close up magic or perhaps a 30 minute hypnosis show.
Joe's undeniable pedigree and experience in performing will transform any stag or hens night into something truly unforgettable.